Blk 20 Woodlands Link, #07-08/09
Singapore 738733

t
: (65) 6278 3160
f
: (65) 6272 3567

e
: soode@singnet.com.sg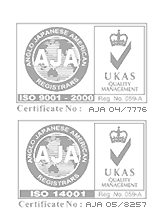 SOODE OPTIK PTE LTD

is a partnership formed on 19th April 1988
by SOODE NAGANO CO. Ltd (Japan) OPTIK TOOLING PTE LTD under EDB's Joint
Venture Scheme. Its objective is to be a major supporting industry in the field of
Precision Press Toolmaking and Production Stamping of Precision Metal Components
to the MNC's and Japanese Companies both locally and overseas.
Staffed by a team of well - trained and experienced Designers, Tooling Engineer and
Technicians and it has the scope to design and manufacture High Precision Metal
Stamping Tools for High Volume jobs to more General Precision Metal Stamping Tools
for lower volume to medium volume jobs.
Equipped with some of the most precision and production machines in its industry, it
has the capability and capacity to produce consistent quality components for high
volume and medium volume production at short turnaround time.
With '

QUALITY is built-in

' as their watchword, their aim is to serve their customer
even better with quality components and quality service.



Products


Components for Audio Equipments, Storage Tape Drive, Floppy Disk Drives,
Hard Disk Drive, Terminal & Connectors, etc.



Nature of Business


Design and Fabrication of Precision Press Tools Production Stamping of Precision
Metal Components.